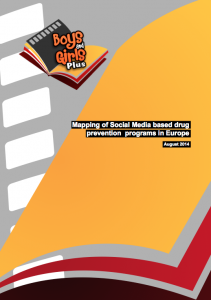 The report 'Mapping of Social Media based drug prevention programs in Europe' has been published.
The Boys and Girls PLUS partnership mapped projects that use the Internet as a tool to raise awareness about drug use and promote healthy lifestyles among adolescents.
In particularly we reviewed preventive programs that use Internet as a medium for disseminating prevention information and programs that offer a whole educational activity packages for all kind socio-educative workers that work with teenagers.
Related documents
Report: 'Mapping of Social Media based drug prevention programs in Europe' [EN]